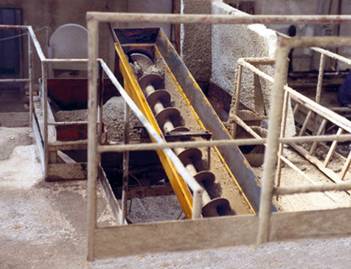 This type of screw conveyors is used as an alternative to belt conveyors in the production of precast concrete elements – to convey fresh concrete from the mixer to the moulds. By changing the angle of the paddles in the inlet zone the concrete throughput rate can be altered. The conveyor is equipped with a rubber drop bottom which let the large aggregate particles that end up between screw and trough pass away.
Throughput rate: from 4 m3/h to 220 m3/h;
Length: от 3000 mm to 6000 mm.