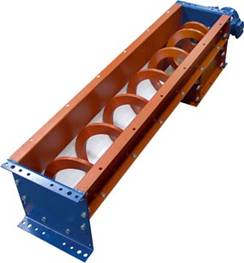 This type of screw conveyors offers a large volume capacity and the possibility of handling difficult heterogeneous materials such as solid waste, sludge, waste from meat, fish, fruit, etc. They are widely applied in the waste water treatment, fruit and vegetables processing plants, beverage industry, pulp and paper, slaughterhouses, etc.
Throughput rate: from 65 m3/h for sludge to 25 m3/h for screenings;
Trough and spiral: carbon steel or stainless steel 304 L / 316 L;
Trough liner: UHMWP;
Options: trough cover; standard inlet spout; inspection and overflow hatches; drainage kit; washing nozzles; different types of power transmissions.